When it comes to shopping for piping materials in the Philippines, you will find two major pipe types. They are PVC and HDPE pipes.
The latter is an excellent piping option because HDPE pipes offer more advantages than PVC pipes. However, the HDPE pipe price Philippines is slightly higher.
Despite this higher price, many Filipinos do not make any objections about the HDPE pipe price. Every day, many people in this country replace their old pipes with HDPE.
Therefore, you must consider having an HDPE piping system for your next piping projects.
HDPE Pipe Meaning
What is HDPE pipe? The HDPE pipe is a plastic pipe made of high-density polyethylene.
pipes were first available in the market in the mid of 1950s. They do not need many years to gain popularity. In the early 1960s, these pipes began replacing the gas pipe system due to the failing iron pipes.
HDPE pipes have particular characteristics that make them different from other pipes. Below are some characteristics of HDPE pipes.
Mostly Black: You can easily recognize HDPE pipes from their color. Most of them are black because manufacturers add around 5% carbon black to make them resistant to UV lights.
Flexible: HDPE pipes are more flexible than PVC pipes. You can bend them to a certain point and they will not break. Due to this flexibility, sellers and manufacturers usually roll the pipe before packing or storing it.
Wide-Range of Temperature Tolerance: These pipes offer excellent performance in various environments with a temperature ranging from 0 to +80oC. However, the temperature of the fluid running inside these pipes must not be over 50oC.
Safe for Drinking Water: HDPE pipes are safe for transmitting drinking water. In addition, they are also suitable for transmitting oil, chemicals, and gas.
Types And Uses of HDPE Pipe
High density polyethylene pipes are available in several types. Each type is suitable only for particular applications. Moreover, the HDPE pipe price Philippines of one type is different from the others.
1.Geopipe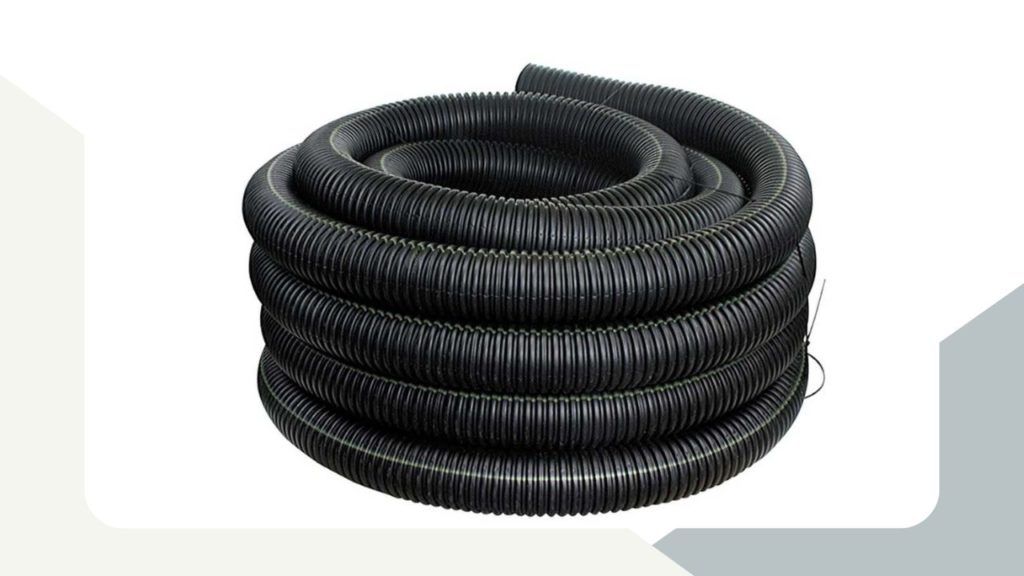 Geopipe is an HDPE corrugated and perforated or non-perforated pipe suitable for sub-drain systems.
The strength and the corrugated contour of this pipe make it capable to endure the heavy weight of the soil above it.
Moreover, the perforated surface of the geopipe will prevent rainwater from forming into puddles.
Geopipes come with a single layer or double layers. In addition, the diameter of the geopipe ranges between 100 and 600 mm. Some geopipe applications are:
Underground drainage pipes
Seepage drainage under football field or golf course
Subdrainage on highways
Mining pipes
2.HDPE Corrugated Pipe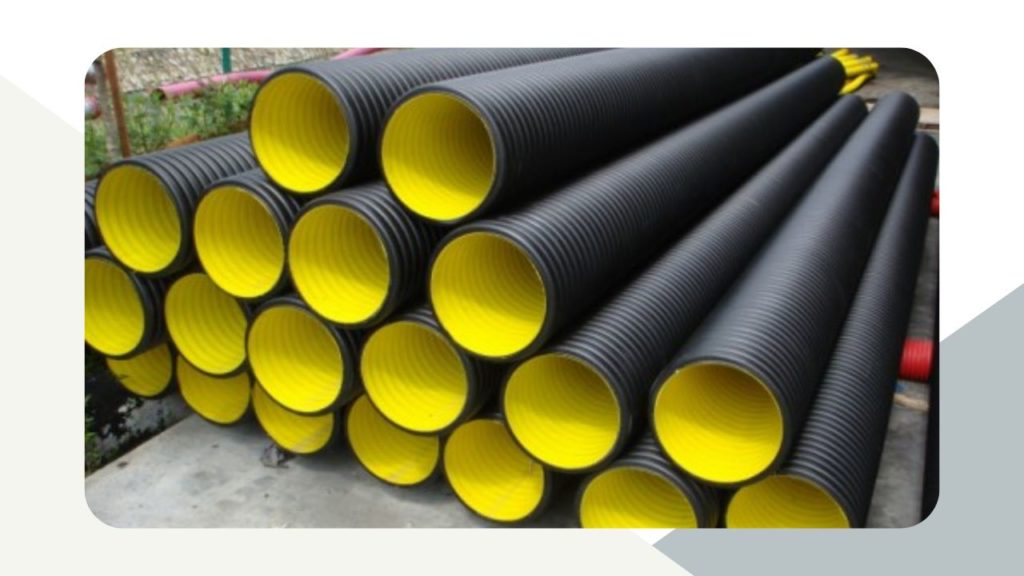 HDPE corrugated pipes are a new HDPE pipe type. They have double layers, i.e. an inner smooth layer and a corrugated layer.
The pipes' smooth inner surface allows liquid to run quickly. Meanwhile, the corrugated outer layer allows the pipes to carry greater weight than PVC pipes.
Many manufacturers use corrugated pipes for their waste management system because the corrugated HDPE pipe price Philippines is more affordable than metal pipes.
Moreover, HDPE corrugated pipes are also ideal for:
Electrical and communication engineering applications
Subterranean pipes
Irrigation
3.HDPE Spiral Pipe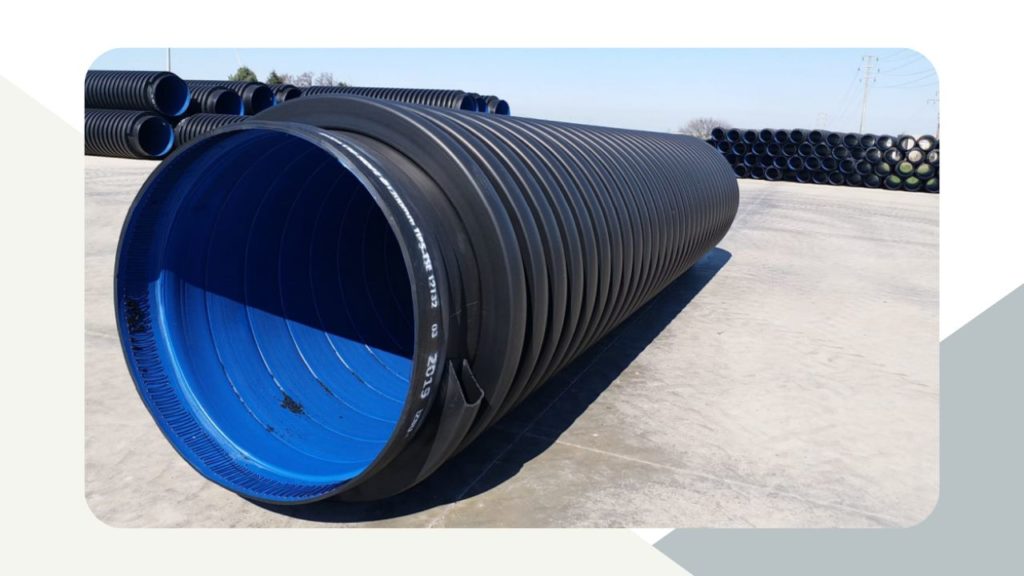 HDPE spiral pipes have a unique shape. Their inner wall is smooth, but the outer wall has a spiral profile.
HDPE spiral pipe manufacturers make the outer spiral profile from PP plastic. Moreover, they equip the pipes with electric fusion wires for easy piping connection.
Therefore, these pipes have better resistant to heat and cold, are durable and are ultra-resistant to external hits. HDPE spiral pipes are ideal for:
Underground drainage pipes
Air ventilation pipes in mines
Industrial liquid transmission pipes
HDPE Pipe Sizes and Price List
The HDPE pipes are available in wide arrays of sizes. You can purchase small-size HDPE pipes up to extra-large HDPE pipes in the Philippines.
The HDPE pipe price Philippines for each size is, of course, different.
The list of the latest HDPE pipe prices is as follows.
HDPE Pipes
Size
Price
HDPE Pipe PN 12.5
20 mm x 1 m
₱220
25 mm x 1 m
₱225
32 mm x 1 m
₱245
HDPE Pipe
50 mm x 3 mm x 5 m
₱990
63 mm x 3 mm x 5 m
₱1,464
90 mm x 3.5 mm x 5 m
₱2,315
110 mm x 4.2 mm x 5 m
₱3,130
HDPE Pipe ON 3.2
200 mm x 6.2 mm x 5 m
₱9,260
315 mm x 9.8 mm x 5 m
₱22,755
400 mm x 12.3 mm x 5 m
₱38,565
Advantage HDPE Pipe
HDPE pipes are an excellent choice for various piping projects because it offers many advantages.
Durable: HDPE pipes can last between 50 and 100 years.
Leak-free: Engineers join two HDPE pipes by applying heat fusion or electrofusion welding. Therefore, these pipes are leak-free.
Ideal for many applications: You can use HDPE for wide arrays of applications, such as rainwater drainage, drinking water pipes, electrical engineering applications, industrial waste management, etc.
Cost-Effective: The initial cost of installing HDPE pipes may be higher than that of PVC pipes. However, HDPE pipe installation is cost-effective because the pipes can last for decades.
Resistant to most chemical solvents: HDPE pipes are resistant to most chemical solvents. Therefore, they are ideal for industrial piping applications.
Disadvantage HDPE Pipe
Below are several disadvantages of HDPE pipes.
Not resistant to oxidizing acid
High thermal expansion
Poor weathering
FAQ
Is HDPE the Same as PVC?
No, it is not. PVC is made of polyvinyl chloride.
Is HDPE Pipe safe for Drinking Water?
Which is Stronger PVC or HDPE?
The HDPE pipe is stronger than the PVC pipe.
The HDPE pipe price Philippines is slightly higher than the price of PVC pipe. However, this price is worth the quality and advantages offered by the HDPE pipe.
Some of these advantages are long service life, leak-free, and ideal for wide arrays of applications.
References : unilon.co, whatispiping,com