Are you interested in knowing the price of steel plates in the Philippines?Stop searching elsewhere!
Steel plates are versatile and widely used in various industries for their strength and durability.
When it comes to their price in the Philippines, it can vary depending on factors such as the grade, thickness, and size of the plate.
On average, you can find steel plates starting from around ₱185 per kilogram.
In this article, we will explore the uses, types, and sizes of steel plates available, along with a comprehensive price guide to help you find the perfect option for your needs.
Uses of Steel Plate
Steel plates are rectangular plates made of steel with high resistance to abrasion and corrosion.
Due to these great characteristics, steel plate price is not cheap Aside from the characteristics above, steel plates are versatile.
You can use these plates for various applications by cutting, molding, and forming them. Below are the uses of steel plates.
Industrial Machinery: Steel plates are an excellent material for making machinery components. These plates make durable and strong industrial machinery.
Construction: The construction industry needs steel plates for various applications, for example, the industry uses them for constructing bridges and tall buildings.
Storage Containers: Steel plates are an ideal material for making storage containers, such as gas tanks. These plates will protect the gas or liquid inside the tank from the heat coming from the environment.
Marine: Particular steel plates are highly resistant to oxidation. Therefore, they are ideal for constructing vessels, oil rigs, offshore facilities, etc.
Types of Steel Plate
Not all applications need the same steel plates. Therefore, steel plate manufacturers make them in several types.
1.Checkered Plates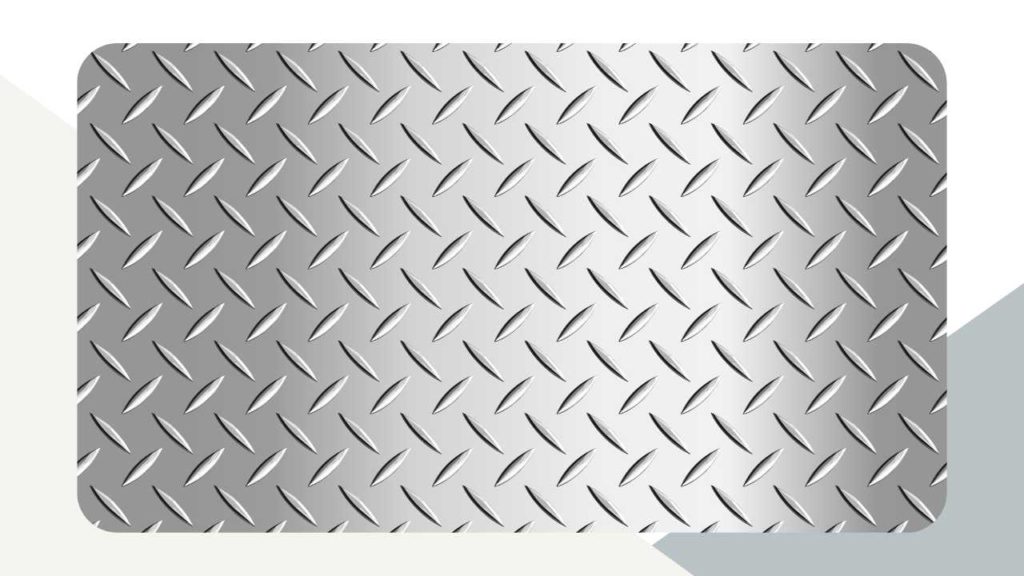 Checkered plates have raised angular patterns on their surface. These patterns create a textured surface that lowers the risk of skids and slips.
Consequently, checkered steel plates are ideal for pathways, walkways, and corner guards.
2.Galvanized Plates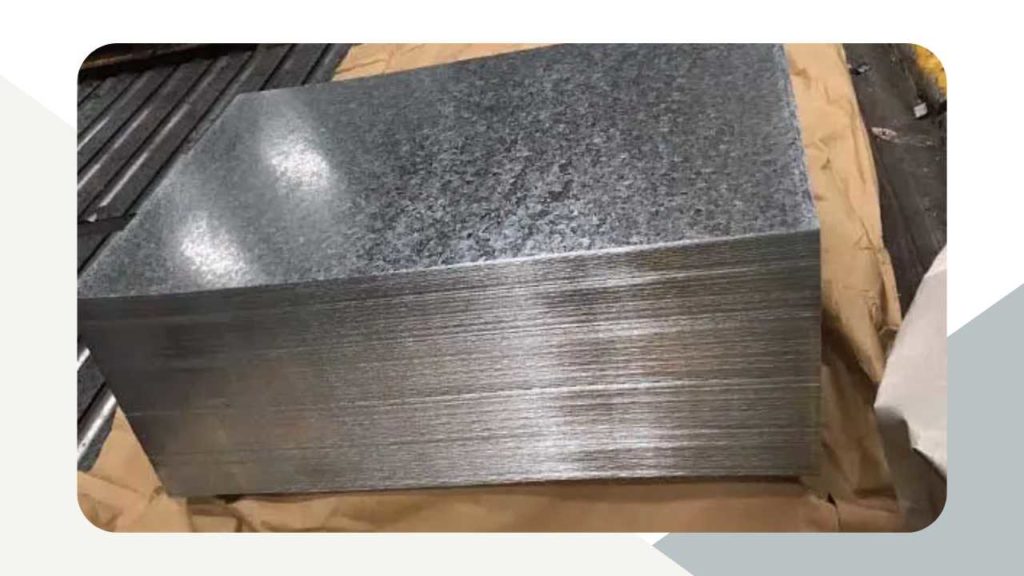 Galvanized plates are steel plates with a zinc coating.
This coating makes galvanized plates more durable and has better corrosion resistance.
Therefore, galvanized steel plate price is rather pricey. These plates are perfect for roofing, water heaters, and automobiles.
3.Mild Steel Plates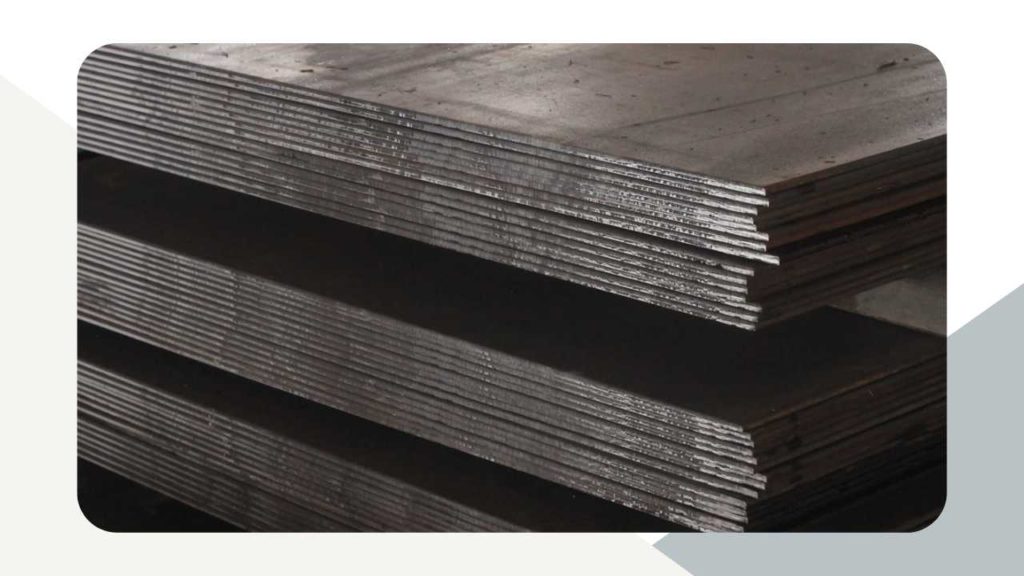 The mild steel plate is one of the easiest steel plate types to work with. Mild steel plates are available in different thicknesses.
In addition, you can cut and bend it without specific tools. Mild steel plates are best for the construction and shipping industry.
4.B.I. and G.I. Plates
Black iron (BI) plates contain aluminum and copper. Meanwhile, galvanized iron (GI) plates are almost similar to galvanized plates.
BI and GI plates have a zinc coating and pass an electric galvanizing process.
As a result, BI and GI plates have better resistance to various elements, stronger, and more durable.
This superiority makes their steel plate price slightly higher than particular steel plate types. BI and GI plates are ideal for the construction and automotive industry.
Sizes of Steel Plates
You can find steel plates in a wide array of sizes. Steel plate sizes typically feature thickness or weight.
Meanwhile, the plate length and width vary greatly because some sellers sell plates in small cuts and others in full plate sizes.
The steel plate thickness starts from 1.6 mm to 250 mm. In addition, the steel plate weight is between 12.6 kg/m2 and 1963 kg/m2.
The thicker or heavier the steel plate, the more expensive the price is.
Steel Plate Price Philippines
How much is the steel plate price in the Philippines?
This price varies greatly depending on many factors. The 2023 steel plate price Philippines list is as follows.
Steel Plate Type
Sizes
Price
MS Base Plate
10 mm, 6 x 6 inches
₱185
6 mm, 10 x 10 inches
₱305
4.5 mm, 12 x 12 inches
₱355
MS Checkered Plate
5 mm, 4 x 8 ft
₱8,025
3 mm, 4 x 8 ft
₱6,410
2 mm, 4 x 8 ft
₱5,605
GI Plain Sheet
0.3 mm, 4 x 8 ft
₱444
0.5 mm, 4 x 8 ft
₱1,246
BI Plain Sheet
0.9 mm, 4 x 8 ft
₱1,365
1.1 mm, 4 x 8 ft
₱1,770
1.6 mm, 4 x 8 ft
₱2,200
BI Checkered Plate
4 mm, 4 x 8 ft
₱5,700
How is Steel Plate Made?
Steel plate manufacturers made steel plates by rolling high-temperature steel.
They compress several layers of steel to create steel plates at the desired thickness. There are several methods of manufacturing steel plates.
The most common ones are hot-rolled steel and cold-rolled steel.
Steel plates are a versatile material. They are also durable and strong.
Therefore, it is no wonder that the steel plate price is rather expensive.
However, you can get the more affordable ones if you purchase them in smaller cuts.
References : metalexponents.com , jfe-steel.co