You can do many things to improve the look of your kitchen and bathroom. One of them is by replacing the old countertop with a granite countertop.
This countertop is well-known for its natural beauty. However, the granite countertop price Philippines is quite high.
Granite countertops are expensive because they are natural stones that need thousands of years to form their beautiful patterns and excellent durability.
In addition, most of them are imported. Therefore, it is understandable if the granite countertop price Philippines is higher than other countertops.
What is Granite Countertop
Granite is a 100% natural stone that is the product of slow-cooled magma that solidified underground. The composition of this natural stone is generally quartz, plagioclase, and alkali feldspar.
To produce granite countertops, manufacturers cut the granite rocks they get from quarries into thin slabs. After that, they polish and fabricate them into granite countertops.
Some manufacturers cut these rocks into tiles. Granite tiles are smaller than the slab. However, they are as hard and durable as the slabs. You can also use these tiles as countertops.
However, you must install them closely if you want to make them as attractive as the slabs.
The granite tile countertop is perfect for you who want to cut your countertop budget. In addition, it is more suitable for smaller counters with difficult-to-reach areas. Due to their smaller size, installers can cut the tiles easily when installing them in those areas.
Uses of Granite Countertop
Granite slabs and tiles are suitable for several applications.
Kitchen Countertop
Granite slabs and tiles make an excellent kitchen countertop Philippines. They are long-lasting and hard. They will not crack and chip easily even if you spend much time preparing food on these countertops.
In addition, granite countertops withstand heat very well. Consequently, you can have granite countertops near the stoves. You can even have them outdoors without worrying about their discoloration.
Bar Countertop
You can also install granite slabs or tiles as bar countertops. Having them will make your bar looks more attractive and elegant.
When choosing a granite slab for your bar, be sure to choose one with the best pattern and color because it will last for decades.
Bathroom Countertop
Choosing a bathroom countertop can be more complicated than choosing a bar countertop. Many people think that having a natural stone countertop for the bathroom is not a good idea.
However, having a granite bathroom countertop is a good idea if you keep it properly sealed.
A properly sealed bathroom countertop is resistant to stains, moisture, bacteria, and mold. It is also easy to clean.
You only need mild soap and a soft cloth to clean a granite countertop. However, you will need a stronger cleanser for stubborn stains.
Granite Countertop Colors
Granite slabs and tiles are available in many color choices. Below are several granite countertop colors you can find easily in the Philippines.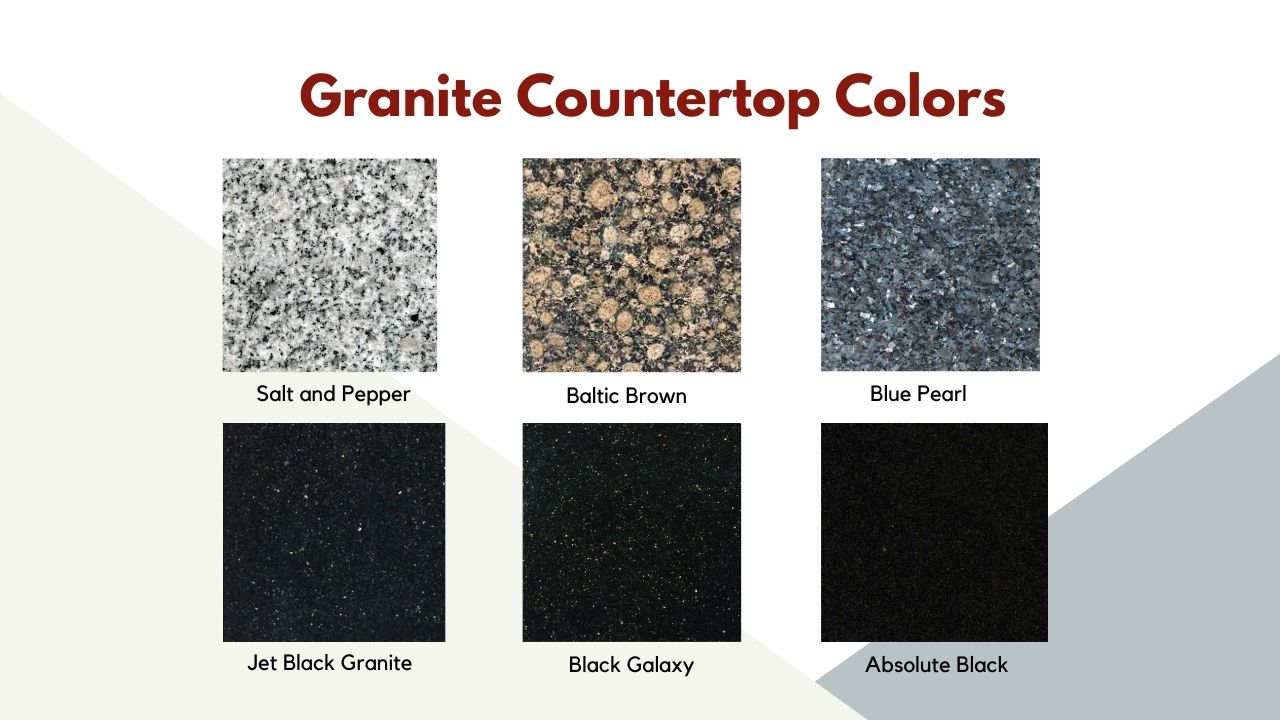 Salt and Pepper
Salt and paper granite is available in abundance so you can find it easily in stores. It has small dark dots with a granite countertop white background.
Therefore, it looks like a mix of salt and pepper.
Granite Countertop Black
Black granite slabs come in several choices, such as:
Jet Black Granite: It is purely black and available in abundance. However, from the ecological point of view, Jet Black is not granite. It is basalt rock. However, it is dense and as durable as granite.
Black Galaxy: This granite has golden specks scattered over a black background. The Black Galaxy granite countertop price Philippines is slightly higher than the Jet Black.
Absolute Black: Absolute Black granite has a combination of small crystal granules and black background. It is a perfect choice if you want to create a contrast in your white kitchen.
Baltic Brown
Baltic brown granite slabs have a striking pattern. It looks like frozen lava bubbles. Moreover, these granite slabs have a dominant color of brown with a smaller amount of dark shade.
Blue Pearl
This granite countertop is grayish blue with glittering crystals. However, not all blue pearl granite slabs have a uniform color. You may find ones in dark blue with gray specks or metallic blue with silver specks.
Granite Countertop Price and Size List
How much is the granite countertop price Philippines? The price is different from one color to another. Moreover, granite size also affects the price. The list of the prices and sizes is as follows.
Product
Size
Price
Salt and Pepper Granite Slab
–
₱3,350/m2
Jet Black Granite Slab
–
₱3,750/m2
Black Galaxy Granite Slab
–
₱4,750/m2
Absolute Black Granite Slab
–
₱4,750/m2
Baltic Brown Granite Slab
–
₱3,850/m2
Paradiso Light Granite Slab
–
₱4,350/m2
Blue Pearl
–
₱5,550/m2
Emerald Pearl
–
₱5,550/m2
Salt and Pepper Granite Tile
60 x 60 cm
₱1,600
Viscon White Granite Tile
60 x 60 cm
₱2,300
90 x 90 cm
₱5,100
Absolute Black Granite Tile
60 x 60 cm
₱2,250
Beige Porrino Granite Tile
60 x 60 cm
₱1,600
Imperial Red Granite Tile
60 x 60 cm
₱2,350
Pros Granite Countertop
A properly sealed granite countertop offers the advantages below:
Durability
Water resistance
Stain resistance
Resistant to high temperatures
Resistant to mold and bacteria
Appealing look
Excellent investment
Cons Granite Countertop
Before you shop countertops made of granite, you must check the disadvantages of this natural stone countertop.
Expensive
High installation cost
Requires strong structural support due to granite's heavyweight
Granite countertop price Philippines is higher than most countertop materials. However, this countertop is durable and has an attractive look. When choosing a granite countertop color, be sure to choose the most suitable one because granite lasts for decades.
References : countertopguides.com , stonedepot